I'm sitting in our living room with the shutters closed and the fan on, as we swelter away in 38 degrees or more. This summer has been one of the hottest I can remember since moving to France in September 2007. It is also turning out to be one of our busiest summers too. Not only are we continuing with the re-building of our ground floor after the flood (see last blog post), but we are creating lots of new printables for the website. Some of these will be FREE…but more information about those later on this summer.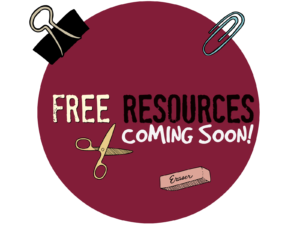 What else have we been up to? Well we managed to get a couple of days away in early July in the Creuse department and enjoyed two wonderful days discovering a part of France that we didn't really know. The Creuse is in South-central France and the gite we stayed in was between Gueret and Montlucon.
The gite is owned by two really lovely people; Angela and Frank. Angela is a very busy, creative lady who crochets, embroiders and makes stain glass items. Frank who is half German and whose father had been a P.O.W during the war in Liverpool, has his own workshop where he turns wood. We were lucky enough to see his workshop and some of the things he'd made.
On our first day we visited Moutiers d'Ahun:  a small town that straddles the Creuse river, near Geuret. The abbey there is over 1,000 years old and still houses a lot of original artefacts: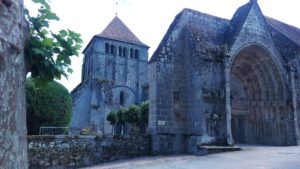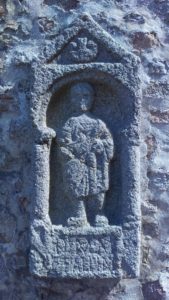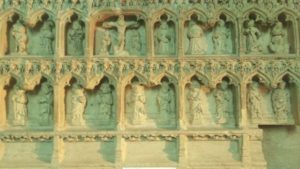 Back across the river, there was a pop-up bar, where we ate ice creams and stared at the river. The bar plays host to several musical events throughout the summer and people can come and have a drink or snack most days, whilst sitting beside the river.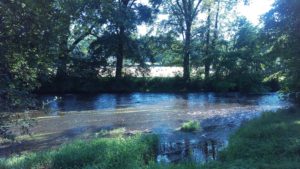 In the evening, back at the gite, we were 'serenaded' by the local villagers celebrating Fete Nationale which actually went on until 5am in the morning ☹ The following evening was the night that France celebrated winning the World Cup…need I say more?
On our final day we went into Aubusson, a small town nearby famed for its tapestries and textiles.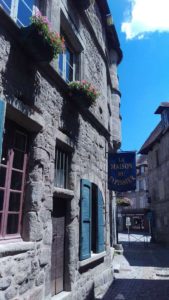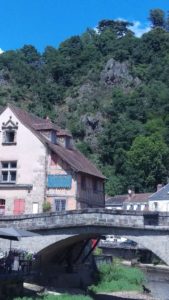 We were also interested in visiting the town because it bore the name of one of Annie Sloan's chalk paints (Aubusson Blue) , so named as it was a colour traditionally used in Aubusson rugs.
By the time we left, Aubusson was gearing up for the World Cup Final.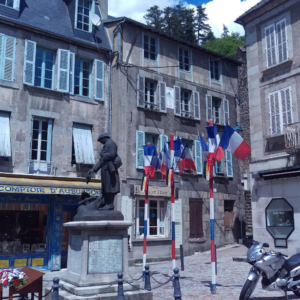 On our final morning before leaving for the Charente-Maritime, we visited this amazing church in Sous Parsat. We had been told that it would be different but we weren't quite prepared for what we saw inside…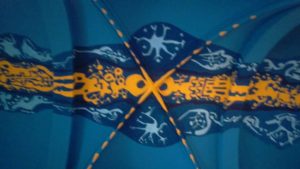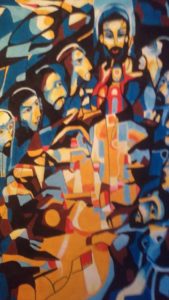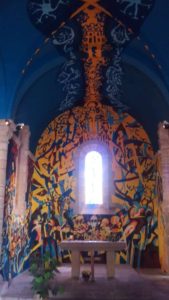 Since returning to our part of the world the temperatures have been steadily rising and it has been near on impossible to do anything at all. The garden is burnt and the plants are dead (or nearly), so this weekend we decided to stay more local and try and find some shade. I have to admit I am not good in the heat. We had a picnic lunch on the coast at Fouras. one of our favourite places. We were the only ones sitting alongside the boats in the mid-day heat (as Noel Coward once said…'mad dogs and Englishmen').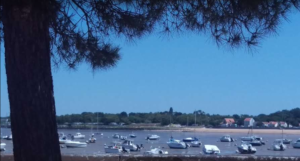 On Sunday we went to Dampierre, which is very near to where we live. We had coffee in the campsite café, sitting in the shade with a gentle breeze blowing and afterwards explored a little brocante in the village. Dampierre has a wonderful chateau which we have been to in the past, so today we decided to give it a miss and sat by the river at the Garage a Papi café. The building had once been an old garage and has since been transformed into a vibrant and lively cafe . There was no one there apart from us and we were able to sit and let our minds wander…bliss!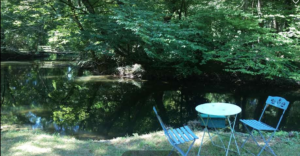 Feeling totally refreshed, mentally and physically, we returned home full of ideas for Blackhen and the rest of the summer.