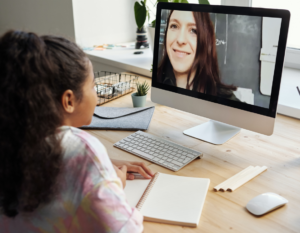 How does it work?
Lessons are available for students aged 4 – 16 years and all you need is a good internet connection and a laptop/computer. Lessons will be delivered via Microsoft Teams or Zoom and you will be sent a link by the tutor before the lesson starts.
What will the lessons contain?
Your tutor will create lessons tailored to your child, to support his/her English course. This will involve working on reading and writing skills and/or areas that need improvement.
When will they take place?
Key Stage 1, 2 & 3  –  6 lessons per term.
IGCSE  English      –  5 lessons per term.
How much will they cost?
Key Stage 1,2 & 3  –  30 mins @ £20
                                 60 mins @ £35
IGCSE English   –      45 mins @ £30
For more information and availability contact us.